The SCBWI 40th Anniversary Summer Conference - Laurent Linn and Paul O. Zelinsky
In the afternoon on Day One, I went to hear Laurent Linn, art director for Simon and Schuster, talk about the process of creating a book cover. It was enthralling to see some amazing art work developed from sketch to final rendering, and to get a window into the thinking behind all the various permutations and revisions that led to the final. It was also a revelation to see the role that the marketing department play in cover design, particularly when we got the low-down on one particularly nightmarish cover job, where they went through 3-4 illustrators and no less than 3 final images (I can't count past two, so it may have been more than that...) before they finally settled on a cover that fitted the market niche that they envisioned for the book. But it was clear that the marketing department are experts at knowing what will work in a commercial arena, and at selling books, which is what we all want. Despite the fact that the process may sometimes be frustrating, it's a question of using all the different areas of expertise within a publishing house to produce a product that will be both an artistic and commercial success. I did a sketch of Laurent, but then I found his "David after the Dentist" parody and nothing else will do. Here it is.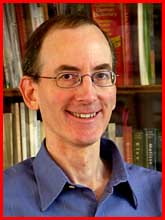 Then I went to a workshop run by Paul O. Zelinsky, whose work I've admired for a long time. In fact, when I did my first book I was researching the technique of grisaille underpainting, and I found a great online explanation he'd posted of the technique (which unfortunately seems to have disappeared or I'd link to it.) In his workshop he gave us a wonderful insight into his working methods for his more traditional paintings, and I was especially impressed with his dedication to finding the right models for his work... he not only hired dancers from a national ballet company, but even got up the nerve to approach a stranger when he found the perfect model for his Miller's Daughter in Rumplestiltskin. But most impressively, in order to find out what the herb Rapunzel looked like, he actually ordered seed from a heirloom catalogue and grew the plants in his studio. Now that's devotion! And because he wanted his witch's house in Hansel and Gretel to be tiled with pancakes, he cooked up a batch and drew from real pancake models.
The page I was doodling on in my sketchbook while listening to Paul Zelinsky. Sorry it's not a more flattering sketch! I'll do better next time.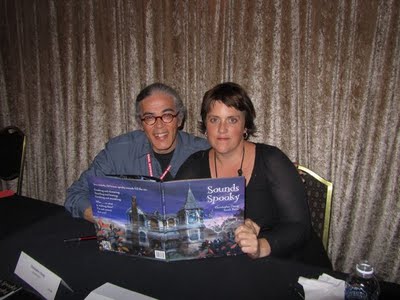 At the end of the day we had the PAL book sale and signing - Chris and I dragged along 40 copies of Sounds Spooky, which will be released in September, putting me dangerously over my luggage limit, but luckily I didn't have to lug them all home again, because they all sold out on the first day! Here's Chris looking all authorial and me with three chins and stupid hair at the book signing, but don't look at me - Look at the book! The BOOK! Isn't it shiny?
I also went to the illustrator's social, which was so social I forgot to take any pictures... but I did get to chat with illustrator E.B. Lewis and Cecilia Yung, art director at Penguin, and meet up with some lovely friends.