Violet is here!
Last week, Violet Mackerel's Brilliant Plot, the first in the series from Walker Books, was let loose in bookstores all over the country - Anna spotted a few of them on shelves around town. Then yesterday we had a party to celebrate! I'm in Melbourne at the moment, for the YABBA award ceremony, and since Anna, who created Violet, lives here, it seemed like a good time to plan a launch. Anna organised the most amazing afternoon, generously hosted by the Book Grocer in Northcote. There were stylists on hand to festoon everyone's hair with flowers and adorn them with butterfly tattoos.
The book opens, "Violet Mackerel is a girl with a theory. Her theory is that when you are having a very important and brilliant idea, what generally happens is that you find something small and special on the ground. So whenever you spy a sequin, or a stray bead, or a bit of ribbon, or a button, you should always pick it up and try very hard to remember what you were thinking about at the precise moment when you spied it. Then think about that thing a lot more. That is Violet's theory, which she calls The Theory of Finding Small Things. " So, Anna had made absolutely beautiful tiny packets of Small Things, and everyone got one to take home. There was a lucky dip too - the first prize was one of the original drawings from the book, and Anna had put together some Boxes of Small Things as rewards for the runners-up.There were violet ballons, and violet lemonade, and a craft table with notebooks and paper for plotting and doodling. There were cupcakes and fortune cookies, and a crowd of happy people.
One of the best things about the day was finally getting to meet Anna - we'd only ever swapped a few emails before, but after the launch, we went out for pizza together and had our first chance at a really good chat. And she's every bit as lovely as I thought she'd be! You can find more photos of the day on Anna's blog.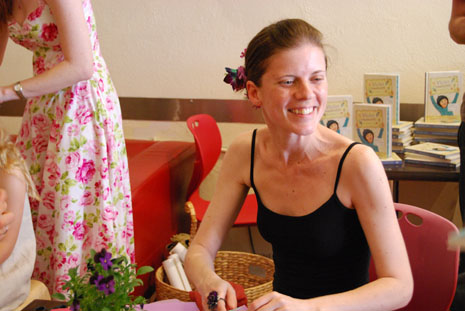 Here's Anna looking happy, with a pile of Violet books behind her - they all flew off the shelves, and some people bought five copies!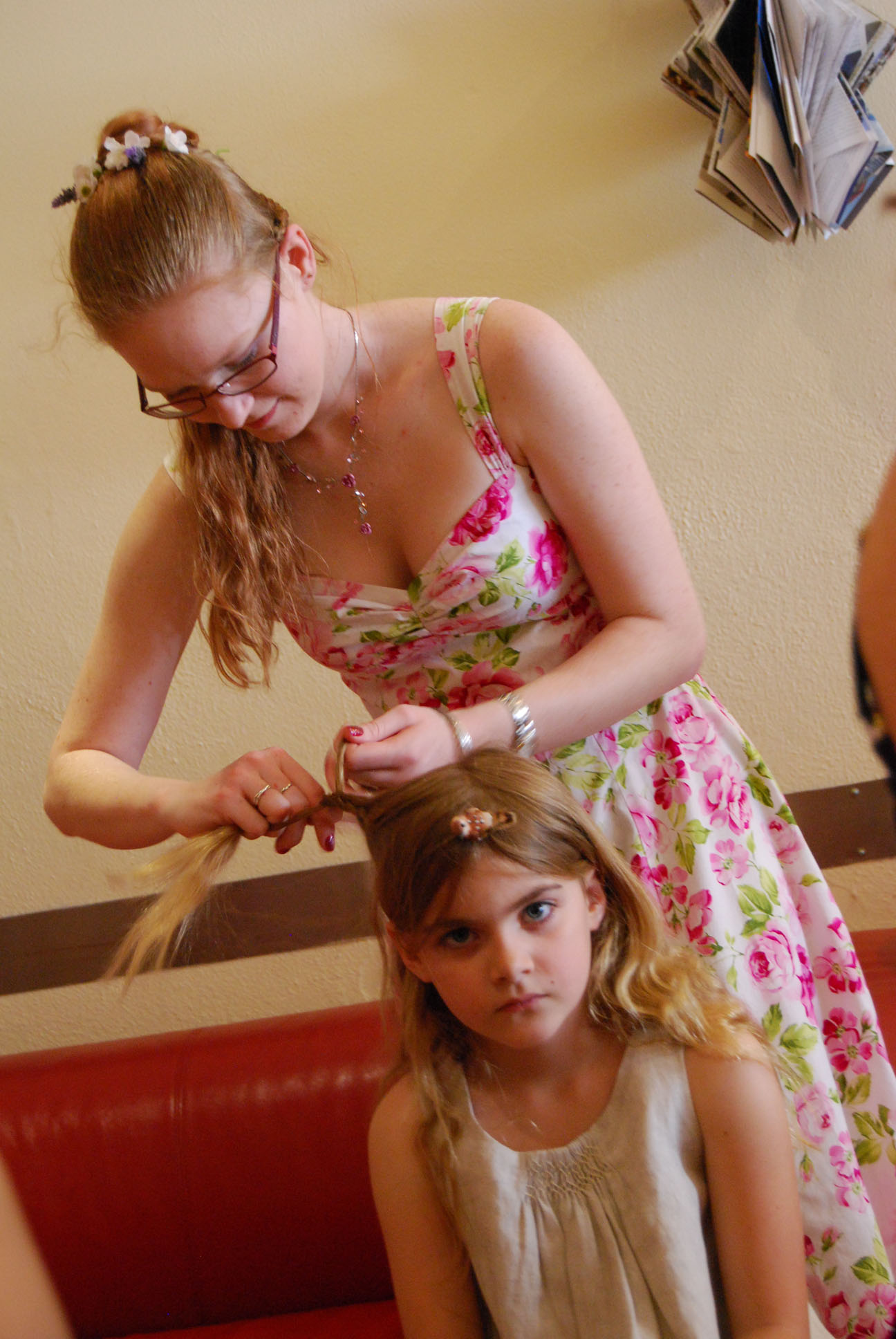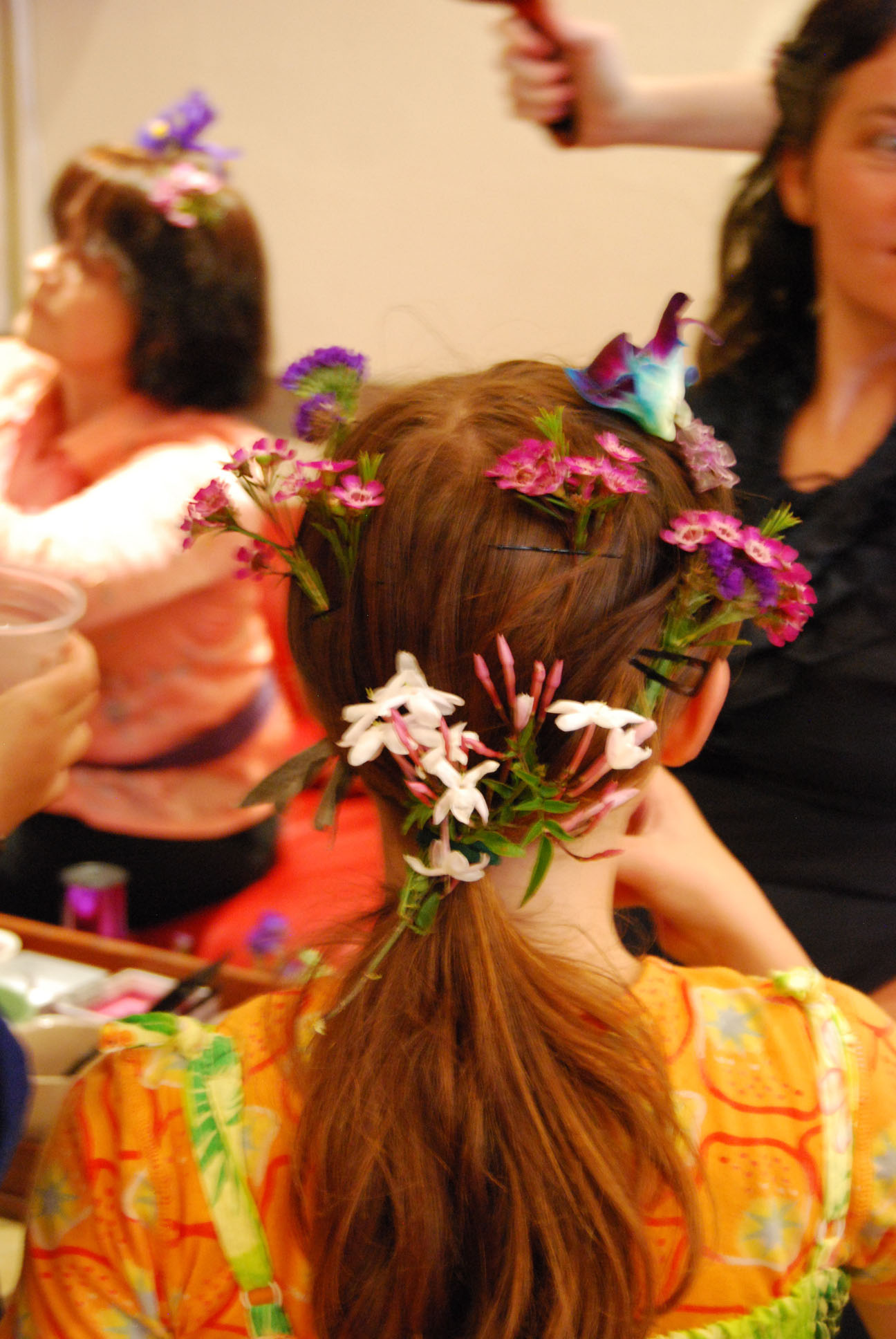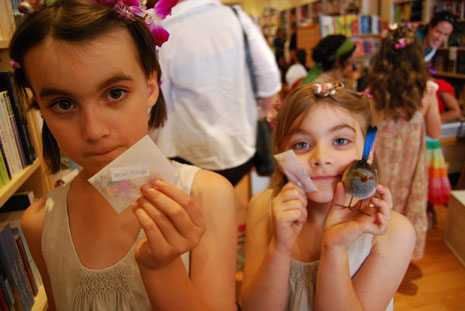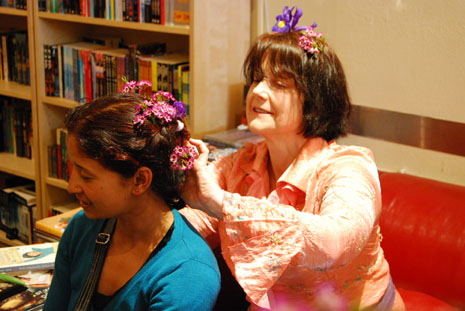 Here's Zoe having her hair glorifid by violet flowers.Another amazing hairdo....Nikau and Zoe hold their packets of Small Things. They helped me with the illustrations in the book - Zoe designed Violet's doodles, and Nikau provided Violet's handwriting, so they were signing books with Anna and I!Even the grownups had their hair done!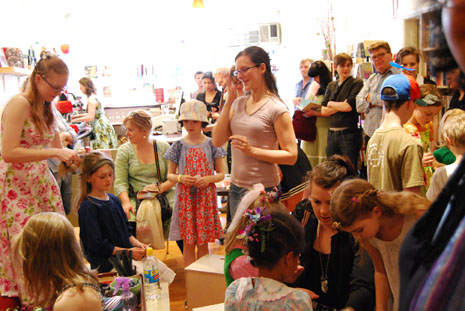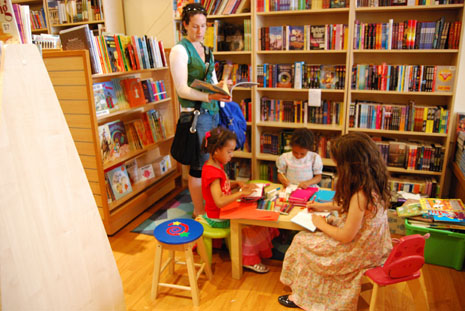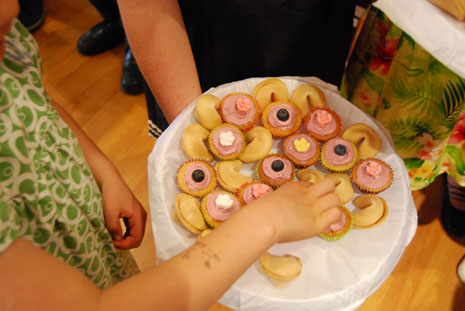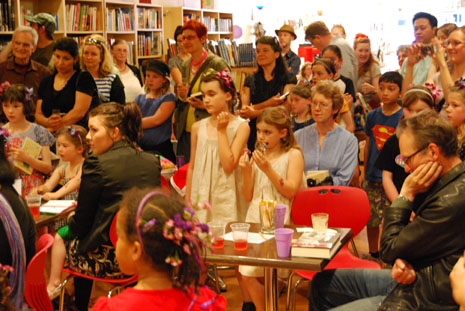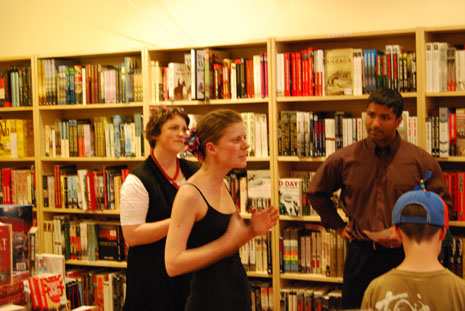 The cupcakes...Everyone listening to Anna and me making speeches.